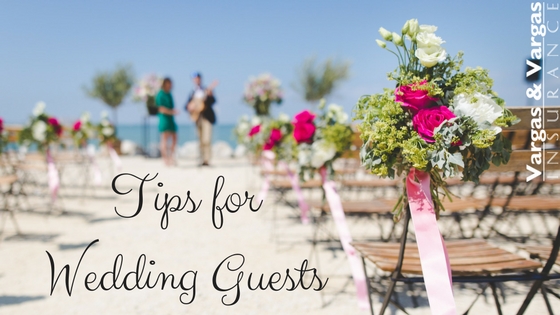 When was the last time you attended a wedding? There have been a lot in the Vargas and Vargas family recently! It got us thinking – we should write a guide for how to be the perfect wedding guest! Here are just a few of the tips and tricks that we've learned:
When you receive an invitation, make sure that you respond by the RSVP date. If you accept the invitation and then need to back out, let the couple know as soon as possible.
If you get the newlyweds a gift from their registry, consider just letting the store ship it directly to the provided address. That will save the stress of needing to bring it to the occasion, and it will save the couple from having to transport it home themselves.
Abide by the dress code stated in the invitation. If no instructions are given, use your best judgement, and remember to consider the location and time of day of the event.
Be present. Don't spend the whole event behind your phone camera. After all, the bride and groom probably hired a professional photographer – so you should have a good time and trust the professional to capture the memories.
Don't be afraid to mingle! It's your chance to see old friends, but don't forget to also make some new ones! Talk to someone you've never met about how lovely the ceremony was, or ask how they know the newlyweds.
Do you know someone who is counting the days until their wedding? Do them a favor and give them the phone number of Vargas and Vargas Insurance – 617-298-0655. Make sure they know just how important it is to insure big events like weddings, and tell them that a free quote for wedding insurance is just a phone call away! While they're at it, suggest that the beginning of a marriage is a great time to start looking into a life insurance policy.