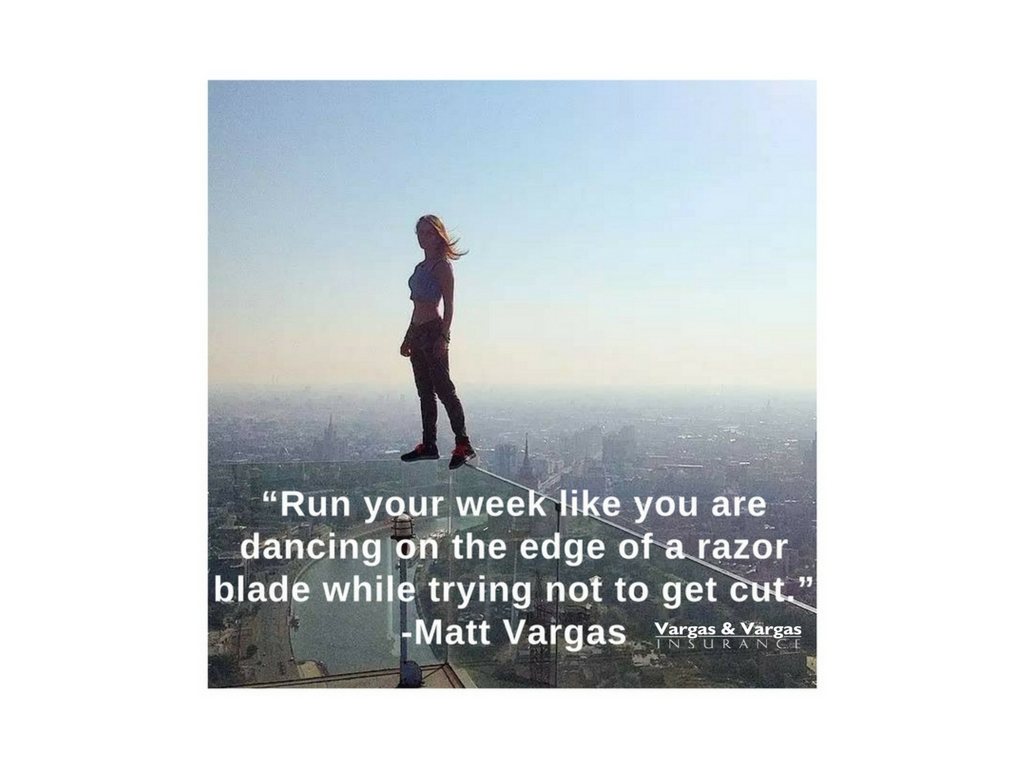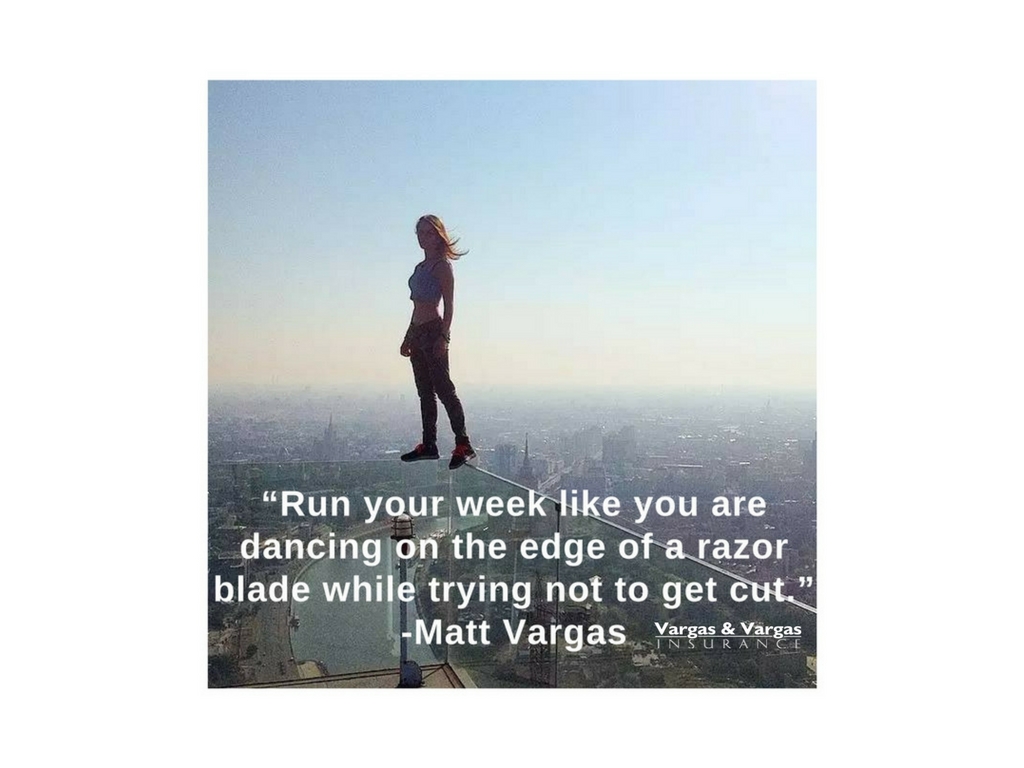 Everything is NOT important, right?. I'll even go one step further, everyone is not important. At least not as it relates to you and your business, and your life as a whole.
Our son, Matthew just stopped by to spend a few minutes with Kathy and I before he leaves for his honeymoon in the morning. Before Matthew left our home, he told me a story that gave me the idea for this Message – before Matthew left his branch at #EnterpriseRentACar tonight, he had a meeting with his assistants and support staff and advised them to take some risks this week. He said that he left them with this message;
"Run your week like you are dancing on the edge of a razor blade while trying not to get cut."
As business owners, you need to take some risks, and it's the little things that make a big difference. That's true in marriage, parenting, and in marketing yourself as a mortgage, real estate, legal or any professional. In truth, it's important in every business. Too often we get caught up in the "thick" of "thin things" and we lose touch with what really drives success in our business.
As we all know, being a loan officer, real estate agent, attorney, solopreneur, or business owner is not easy, BUT having the knowledge and tools to succeed makes running a smooth sailing ship an attainable goal. How many days have you been at the office until 8 pm? How many weekends have you worked when you shouldn't have? Do you feel like you've been running around all day but have not actually done anything you set out to do in the morning? As business owners, these are questions we have all answered "yes" to at some point. But why? Because we don't have the right mindset to create the job we want vs. the job we have.
In every profession, there are cardinal sins that take you off track and derail your success. Over the next few emails, I will be sharing the marketing sins many of us commit and will help you implement some tips to turn your downfalls into productivity! My challenge to you is to take one or two sins that you're committing and focus on improving them. When you've got them nailed, move on to another sin and overcome it. Business success usually results from the commitment to making small incremental improvements over a long time.
Sin #1: Working "IN" Your Business Instead of "ON" Your Business!
I was working with a friend that I mentor who was in a sales slump. He was putting in a lot of time at work, but was not seeing any results from his efforts. I decided to perform a very simple diagnostic: I asked him to email me a detailed list of all his activities for the next three days and then give me a callback. He did his homework and I received the email listing all his activities and how much time he spent on them. With an immediate glance, I could tell exactly what his problem was — he didn't realize what business he was in. After reviewing his activities, it was clear that he had become a "Fireman" and was too busy "putting out fires," because that's where he spent most of his time. Rather than working "on" his business, he was working "in" his business. The key here is to concentrate on the "non-urgent — but important" tasks and NOT on the "urgent — but not important" tasks.
This mortgage professional (and, maybe you) should be spending more time working "on" your business doing things like proactive sales and marketing activities, which have a higher long-term payoff.
How can less be more when it comes to working? Well, that statement is true, and I would love to show you how to accomplish twice the work in half the time, and reduce your stress in the process. The secret is Pareto's Law, or the 80/20 Principle – a core foundation of success in business, and in life for that matter.
Now go out and enjoy the rest of your week!
Carlos