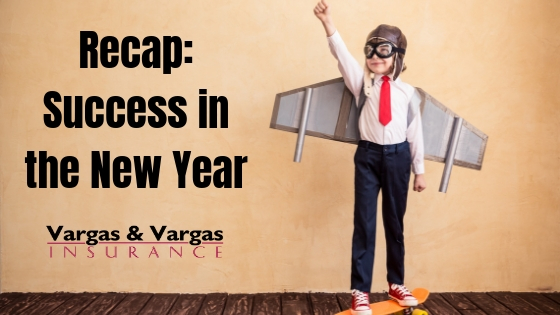 "Success usually comes to those who are too busy to be looking for it."

– Henry David Thoreau
Have you decided on a New Year's resolution for 2019 yet? Many people around the world will be choosing personal and professional goals to work on throughout the year, but statistics show that many of them won't succeed! Here at Vargas and Vargas Insurance Agency, we want to make sure that you achieve all your goals, so we shared some tips to help you make your New Year's resolution a reality this year:
Choose a goal or two, but don't overextend yourself by trying to do too many things at once: remember – quality over quantity.
Make sure that your goal is well-defined by using the SMART goal guidelines.
Hold yourself accountable and do what it takes to ensure success in your endeavor.
Treat yourself to small rewards on your journey – they will help motivate you to keep going and make process toward your desired result.
If there is anything our agency can do to help you reach your goals this year, please call us at 617-298-0655. We can review your insurance policies, refer you to a local professional, and much more. Here at Vargas and Vargas Insurance we are passionate about helping our neighbors, so let us know what we can do to help you in 2019 and beyond!