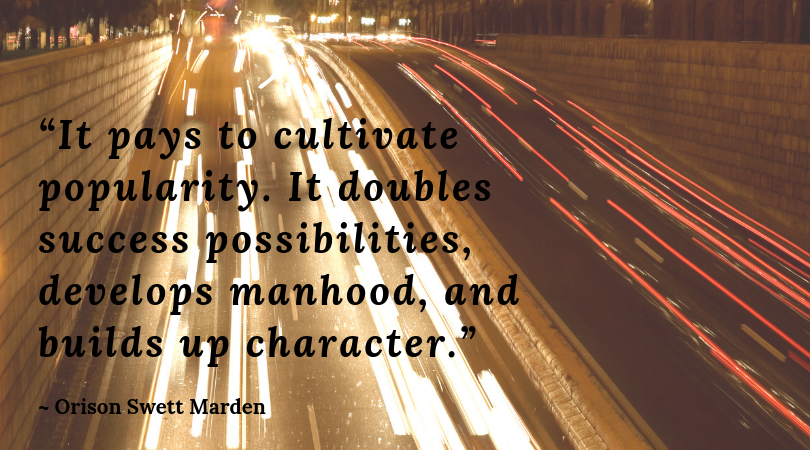 The new week brings new prospects! Are you ready?
Here are your words of wisdom for the week:
"It pays to cultivate popularity. It doubles success possibilities, develops manhood, and builds up character." – Orison Swett Marden
Last week, we talked about the importance of bringing traffic to your business website, and I promised to share some sources of "free traffic." If ever there was a siren song of the digital age, "free traffic" is it!
Can you get free traffic to your site?
Can you build a business based on this traffic?
The answer is YES and YES. However, you must learn how to do it and you must be consistent with your activities.
Are you ready to get on that "super highway"? (See what I did there?)
Here are the main sources of free traffic:
Search Engines
Get your site listed in the venerated "top ten" search results; this is "organic" content. The most effective way to achieve organic search results is to provide quality content – lots and lots of content.
When your website proves to be a useful resource for visitors, you will do well. If you try and outsmart the search engines to get the traffic, you will be "spinning your wheels" (Oops, I did it again!), and it simply won't work.
Create a content rich site and the search engines reward you by displaying that site when people search with the keywords within the content you provide. The content must be high quality. It must be original. Check out our Vargas and Vargas blog to see our own humble example.
Free Ads
Free ads are a mixed blessing. Free sounds good, right? They usually don't work. That's bad!
If you can get a free ad in a place where ads are usually sold, like the free ad you get for subscribing to classified ad sites that are visited by people, it might be worth the time. Be careful of how much time you invest.
However, the ad blasters and automated submitters do not work in my experience and should probably be avoided.
Articles
Without a doubt, marketing with articles/blogs is the #1 free traffic method. You don't need to be a professional writer to do this. All you have to do is write a short article 300 to 500 words in length, that describes a problem people face and that provides a few solutions you know people are searching for.
Once your article is written, post to your site and to your social media channels. Submit to article directories, ezines and groups on social media. Some website owners are generous and will share your blog to get the widest possible distribution. However I personally have never had success doing this.
Write and submit an article a week and very soon your website will get interested visitors who are proven to purchase. Or, you may wish to write and post more often. Remember, "lots and lots" of content!
Next week, I will share with you the final two sources of "free traffic." Stay tuned!