It's a new week, friends!

Are you ready to face what new challenges the future holds with the help of my latest motivational quote?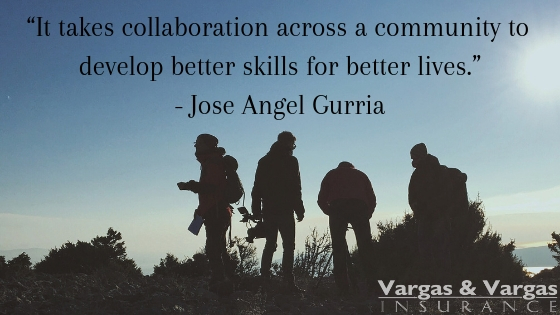 So, this week I want to answer the following question from my message last week: what should you do when the "next big thing" starts coming around the corner? Here are a few examples of what I have been doing to keep up (and thrive) with video-based marketing.

First, it's okay to be baffled (I was before I started posting a video a day, click to view my Youtube channel). Second, it's okay to feel like you want to run away and hide. Third, don't worry that you don't know much about it. Very few do, but it is so simple today to record and post a video.

Here's an interesting article that my friend Ryan Hanley, the Chief Marketing Officer at Bold Penguin posted last month on the "5 ways to improve your YouTube strategy."

Learn – I spent the last week of January in Las Vegas with some amazing cutting edge marketers of insurance (yes insurance marketers and not insurance agents or brokers). What I learned can be used in real estate, mortgage, legal, construction, really any business space.

I am putting together some TOTALLY FREE information on how to use video, lead funnels and landing pages in your business that I can share with you. If, however, you choose to go it alone, there are all kinds of options to help you: books, videos, audio, blog posts, etc.

Imagine – Start asking yourself this question: "If my current and future clients are watching video to learn all about insurance and what they need to have for coverage, how to purchase a home or what they need to know about applying for a mortgage, what will happen to my competitors that are so entrenched in the old way of marketing and do not use video (or have much of an online presence) in their business?"

The answer? Your competitors will be less relevant everyday and will be waiting on the sidelines watching you eat their lunch.

Interact – Everyone's in the same boat when a next big thing comes along. It's okay to ask questions. What makes EVERYTHING work better in these moments is "sharing" with others and figuring stuff out with other people.

That's what to do. And not just for video, for everything! For life. For thriving. For moving to next levels instead of playing the old game.

Let me finish with this: "There is an expanding segment of our population and and a shrinking segment of our population. Who are you going to base the future of your business on?"

That's our role. All of us. Okay?

Carlos