It's a new week once again, friends – are you ready?

As you know, I start each week with some positive words of wisdom, and this week's are: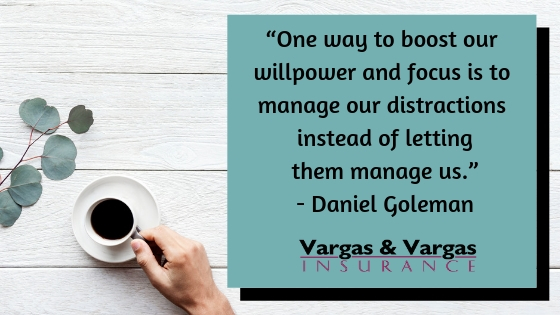 Last week, I promised to help you rid your life of some of the distractions that keep you away from being productive. Your smartphone, your inbox and the open tabs on your computer are all open invitations for distraction. You'll give yourself extra time each day to focus when you silence your notifications, close your inbox and remove unnecessary tabs from your desktop.

If you want to focus, you can't welcome unnecessary opportunities to intrude on your mental space.

Emails can be particularly intrusive because they often have an unnecessary sense of urgency. There are businesses and organizations that stress the importance of prompt responses to emails, but we can't treat every situation like an emergency.

Many times, we blame electronics for distracting us from our work, but sometimes our physical body forces us into a state of serial-tasking. For example, if you're hungry while trying to work, your attention will flip between your hunger and your work until you take care of your physical needs.

In addition, you'll also want to be sure you're attending to your health in a broader sense. Getting enough exercise, practicing mindfulness and incorporating regular breaks into your day will keep you from being tempted by distractions.
What works for me is looking at exercise as the gift to myself for doing my work. When 1PM comes around, an alarm sounds on my devices that it's "me" time. I'll then get out of the office and go to the gym or for a long walk outside.

People are more likely to login to YouTube or check social media when they need a break. Instead of trying to work and watch a mindless video at the same time, dedicate time for yourself to enjoy this distracting activity. Limit how much time you'll spend on this break so that your guilt-free distraction time doesn't turn into hours of wasted time.

Make technology your ally. Apps like Forest help to turn staying focused into a game. Extensions like RescueTime help to track your online habits so that you can be more aware of how you spend your time. One of my favorite browser plugins "The Great Suspender" suspends all of those open windows on your internet browser.

Multitasking is not the key to productivity. The key to productivity is focus. It's far better to schedule time to focus on each task than it is to try to do everything at once.

Make use of the methods outlined above and prepare to be more effective and less exhausted in the process.

Carlos