I LOVE starting my week with positive words of wisdom. This week's are: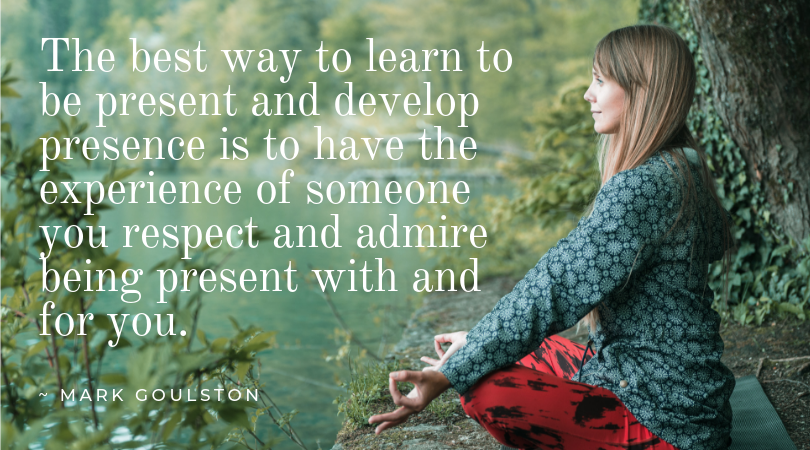 The best way to learn to be present and develop presence is to have the experience of someone you respect and admire being present with and for you. ~ Mark Goulston
As I have mentioned in earlier emails, I was a speaker at IAOA in January. This gathering, our country's youngest and brightest independent insurance agents, is one of the highlights of my year.
The trip started with our airplane ride to Phoenix. I don't know what you do on an airplane, but I usually work writing blogs, creating posts and/or laying out chapters ideas for the book I'm writing.
Suddenly, I got a look from my wife, Kathy that screamed, "hey, I'm over here, why aren't we communicating?"
I put my laptop away, we watched a movie, fell asleep and had a great flight.
The conference is 2 ½ days of presenters and break-out sessions all day. The event is choreographed so that all of the members in attendance get maximum exposure to one another. Kathy spent this time by the pool, visiting the local things to do and working on her hobby.
When the conference was over, we hung out for a couple of days to enjoy the weather, but so did many of the other independent agency owners. And everywhere that we went at the hotel, we ran into each other and started chatting about how we're doing, what we're doing and our "secret sauces".
One of the agents asked me if I was afraid of sharing my secret sauce. I replied, "you may already know the sauce, but you still have to cook it." I borrowed that from a chef friend of mine!
Here are a few of the most common barriers that keep us from being present and mindful:
Thinking about the past and the future
Multitasking
Being in denial
Obsessing on thoughts or observations
Pushing away thoughts or observations
A lack of intention
A lack of compassion
Judging, analyzing, criticizing or evaluating
Judgment is one of the most common ways that keeps you from being mindful. Whether you are judging your experience as good, bad or ugly, it's an obstacle to being fully present in the moment. We do this all the time. Everyone does. The way to do it less is to notice it and move your thoughts on and not let judging interfere with your ability to be mindful. It's ironic isn't it? You have to be mindful about being mindful.
Try spending a few days noticing all the judgments you make throughout the day:
"What is that lady wearing?"
"Yuck, this food is gross!"
"I should not be the one handling this!"
Any time you catch yourself playing Judge Judy, notice it, label it as a judgment, and resist the temptation to judge yourself for being judgmental. More irony, right?
Pay Attention!
When I came to this realization, my first thought was paying more attention to Kathy. I know how I feel when people don't listen to me or pretend like they're listening to me, so I have to apply the Golden Rule:
Treat her as I want to be treated.
This one is easy because I want to treat my wife better than I want to be treated. There's an episode of the Cosby show (sorry), "The Dead End Kids Meet Dr. Lotus" when Theo is given great advice from his father. He's told to repeat these words: "I will pay more attention to my partner."
Remember "Tomorrow isn't promised, all we have is today.'"
~ Sylvia Solomon
My second thought? Next week!