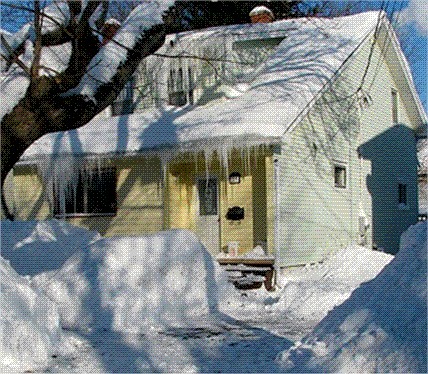 There is a chill in the air, and that is a sign that winter is not far away. As the temperature begins to dip, and you put away your flip flops till next year, don't forget to protect your greatest investment- your house! Here are Vargas and Vargas Insurance  Agency's top tips for preparing your home for the arrival of winter.
Keep the Heat Inside
Check around all doors and windows, and take time to replace weather stripping and caulk to seal up any cracks or openings to keep warm air from escaping outside. Consider installing new energy efficient windows and take care of the 2011 Energy Star Tax Credit! Add insulation in the attic and take a few moments to inspect your roof. Prevent possible ice dams by cleaning out the gutters and downspouts and fix any areas that may need repair.
Check That Furnace!
Don't do this on your own. Schedule a checkup with an HVAC specialist to do a proper inspection of your furnace. Do you have a woodstove or fireplace?  Clear out the ashes, have chimney and flue are cleaned, and cover the chimney top with a protective screen to prevent animals and debris from getting in. Visit the Vargas & Vargas Partners  page on our website for a selection of professionals.
Before the First Snowflakes…
How many times has it happened? The winter's first snowfall catches you by surprise! You find yourself rummaging around looking for the snow shovel, ice scraper, and ice-melt. Be prepared! Tune up the snow blower if you have one. Make sure the shovels, rakes, and ice scrapers are in good working condition. Buy ice-melt and sand to take care of those driveways and walkways
No Power? No Problem.
Hurricane Irene taught us, you can't be too prepared!  Have an emergency supply of candles, matches, blankets and batteries in case of a loss of power. Those who have generators should make sure they are in working order. Stock up on bottled water, non-perishable foods, and compile a first-aid kit.
Going Away?
Taking the family on a winter vacation? Some may want to shut off the heating system while gone to save money on energy costs. Don't, the interior will become far too cold and cause your pipes freeze, burst and flood your home. Don't turn off the heat; turn it down to 55 degrees. Your house needs to stay warm too!           
Getting ready for winter may add to your "weekend to do" list, but it will save you money and protect your biggest investment, your house. You may want to also contact Vargas and Vargas Insurance to make sure you are adequately covered on your homeowner's insurance policy.