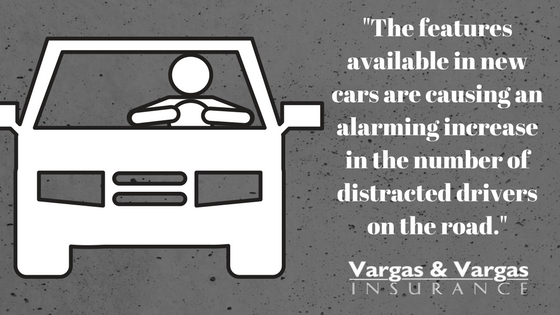 Cars used to be a tool that would get you from one place to another. Now a car is so much more than a mode of transportation. In fact, a majority of new cars come with an 'infotainment' system standard – a far cry from the AM/FM radio and CD player that most drivers were excited about just a decade ago. While they may seem like an upgrade, the features available in new cars are causing an alarming increase in the number of distracted drivers on the road.
In a 2017 study by the AAA Foundation for Traffic Safety, researchers evaluated the infotainment systems in 30 model-year 2017 vehicles. Of these 30 vehicles, all generated at least moderate demand for drivers' attention. In fact, 12 of the 30 systems generated a very high level of distraction.
It was found that the most distracting activity performed on the car's infotainment systems was programming navigation, which takes an average of forty seconds to complete. In the time necessary to complete this task, a car moving at 25 mph would travel the length of four football fields!
Thankfully, there are steps that you can make to ensure that you (and the other drivers in your life) are safe despite all the bells and whistles in your new cars. Simply ensure that you program navigation when the car is not in motion, and that texting and social media are also disabled while the car is moving, in accordance with the voluntary guidelines proposed in 2012 by the National Highway Traffic Safety Administration.
Don't forget that Vargas and Vargas Insurance Agency is here to help with your car insurance needs. Whether you have a cassette player or a new-fangled 'infotainment' system, we can get your vehicle protected with the best Massachusetts auto insurance. Just call us at 617-298-0655.