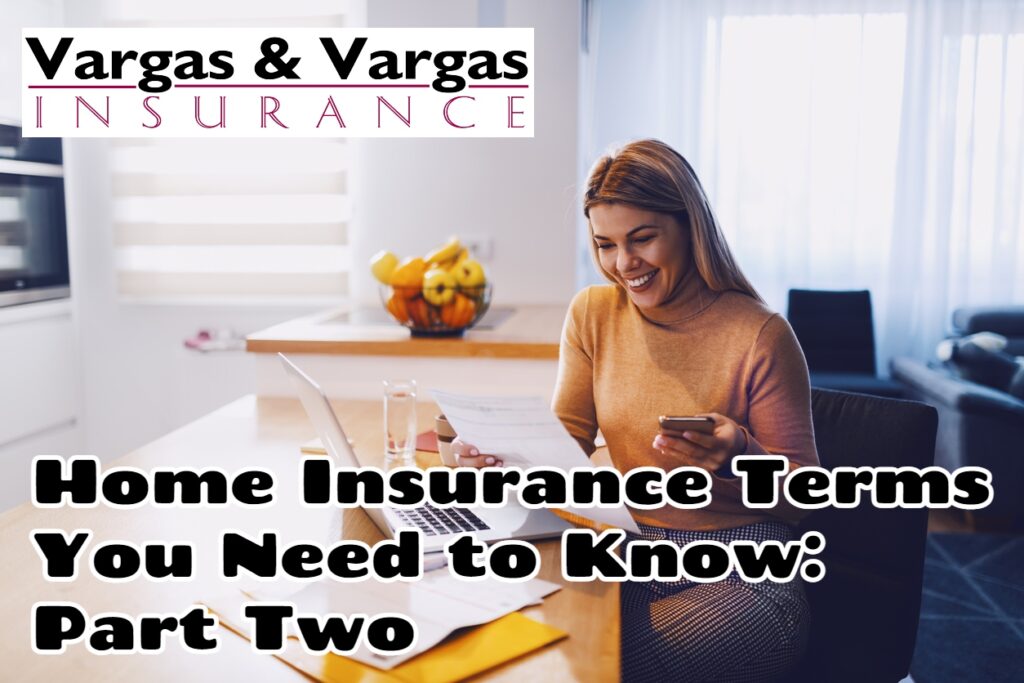 The only thing worse than having a homeowners insurance claim is having a claim and realizing you didn't understand the home coverage terms in your insurance policy. Now you don't have the coverage you thought you had. Vargas & Vargas Insurance wants you to have the knowledge you need to make the right decisions about your insurance. Arming yourself with the knowledge of homeowners coverage terms is crucial in preventing unwelcome surprises when a claim occurs. 
Homeowners Coverage Terms
Dwelling Coverage
A dwelling is the building in which you live. In home insurance terms, your home is your dwelling. It is insured for the perils in your policy up to the policy dwelling coverage limit. But this is for the main structure only and does not include the contents. Contents have their own coverage area in a home insurance policy.
Additional Structures Coverage
Any structures on the premises not attached to the main dwelling are other structures or additional structures. This includes a workshop or shed, for example. An amount equal to 10% of the dwelling coverage is usually also allotted toward additional structures as part of your basic coverage. However, you may want to purchase additional coverage, if needed. This coverage does not apply to the contents of the additional structure. Those are covered with your personal property coverage.
Personal Property Coverage
This is for all of your personal belongings, such as clothing, furniture, electronics, household tools, etc. It's important to speak with your agent about items you think may fall into this coverage area but actually may not. Examples might be golf carts and four-wheelers. Keeping an inventory of your personal property is important, as you will need to itemize them in the event of a loss.
Liability Coverage
Homeowners can be held liable for a wide variety of events occurring on their property. Liability coverage provides legal protection for the majority of these, up to your policy limit. Also, most policies come with a basic amount that you can increase for a minimal additional premium.
Additional Living Expense/Loss of Use
When a claim occurs, your home may not be inhabitable for a time. This is why Additional Living Expense coverage, also known as Loss of Use coverage, is so important. This coverage will help with the cost of displacement up to the time period specified in the policy.
Endorsement
An endorsement is an addition to your homeowners policy. You may need more coverage than allotted in your basic policy in a particular coverage area. Endorsements allow you to add that coverage. A common example is for jewelry. Most policies provide a limited amount of jewelry coverage but allow more coverage through endorsements. 
Exclusion
An exclusion is a coverage area that insurers specifically do not include in your policy. Your policy will have a list of exclusions. It's imperative to review these exclusions, as there are often options to provide coverage for the excluded perils separately. One example is flood coverage. Floods are usually an excluded peril, but flood insurance is available as a stand-alone policy.
Inflation Protection
The cost to repair or replace your home and belongings does not stay static. Most homeowners policies include inflation protection, which raises your coverage in small increments each renewal, as needed, to keep pace with inflation.
Risk/Peril
A risk is the possibility of something unexpected happening. A peril is the cause of something unexpected happening. The peril of a wind storm increases the risk of damage to your roof. Knowing what perils are covered under your policy is imperative for you to have proper protection from the risks you face as a homeowner.
For more homeowners coverage terms, see the first installment of Home Insurance Terms You Need to Know. Homeowners coverage terms can be intimidating while also being vitally important. That's why Vargas & Vargas, a premier local independent insurance agency, is here to help. We will customize your insurance coverage to your specific needs at the right price and are here to answer all of your insurance questions. So contact us today.