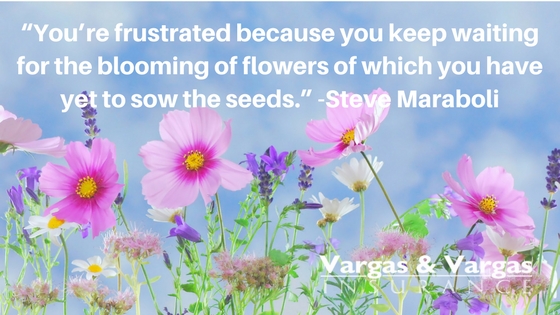 I hope that you are as excited as I am about today, today is the first day of Spring!
With all of this winters storms, this day is so much more special.
I know that it is just a date on the calendar, but it gives us reason to hope that the weather will be changing really soon.
I like to start my week with some words of wisdom,
"You're frustrated because you keep waiting for the blooming of flowers of which you have yet to sow the seeds." -Steve Maraboli

Do you have a stack of "stuff" that you intend to let go or get to, but never do?
 
I swear that my wife Kathy is the master of getting things done. She hates to see "stuff" stacked up anywhere. It's a mindset. I have said before, she is super organized, she has a plan and is amazingly detailed on what she wants and does not want. It's an addiction for her. Our son Matthew is just like Kathy, Jonathan and I are the exact opposites.
 
Stop Letting Things Pile Up
I have a silent little secret. It's books, specifically the buying of books. I have decided that I am not going to buy any more books until I read (or given away) the ones that I have piled up. I've purchased many books thinking that they would be great reads, or that I would get some great ideas from them, but some have not even been looked at.
 
I have started taking notes on all the ideas that I think are useful and want to incorporate into my business and personal life from the books that I am reading. I am using Evernote to keep track of these ideas.  I will work on implementing these new ideas as hard as I work to read the book.
 
I want you to do the same. I bet you're subscribed to too many newsletters. Unsubscribe from the ones that are not serving you. And I mean MY Monday Morning Message and our connection, too. If you do not find my writing interesting, or useful, click Unsubscribe at the bottom of the email, or unfollow me on Linkedin. It won't hurt my feelings at all.
 
You see, I am a believer in the philosophy of "out of everyone you meet, 25% will automatically take a liking to you, 25% will automatically hate you and the other 50% is undecided." I write these messages for the 25% that like me and the 50% that are still undecided.
 
Stop Adding "Stuff" to Your Life
Are you one of those people who has a plan, not really following it, and so you start looking for a new plan? You may be thinking that you're not the problem in this equation. You are. And I am too, sometimes.
 
Work on ONE plan. Give it all your effort. Execute that plan. THEN, if it's not working you can abandon it and try another. You are better off having learned from this failure rather than never having tried it.
 
But neither you nor I have permission to think, "Hmm, I'm not actually doing this anyway, so I'll go find something else to not do." Give it your 100% or abandon it completely: half-hearted efforts are a total waste of your time. You won't be helped by doing this… that's last year's mentality.
 
One at a Time
Setting habits is like farming – you need to plant the right seed, tend to it, water it, and with the right amount of sun, air, and fertilizer, you will soon be harvesting the benefits of your hard work. You can't just throw your seeds into the fertile soil of your business and expect them all to sprout. They'll choke each other out, be encroached on by weeds or be eaten by the birds (your competitors). It's a waste of time, effort, and treasure!
 
Plant one seed variety at a time. Nurture it. See the results. And then grow.
 
Spring is here
Start cleaning now. Clean out the sources of information you're no longer using. Clean out the abundance of half-started plans in your world. And work on what resonates with the one goal you need to work on FIRST.
 
It's time to shut off the spigot of knowledge and ideas and drink what we have poured. Get into a more measured approach. Choose a path and let that guide you forward.
 
If you need some help elevating your business to the next level, I may be able to help. I have worked with some amazing people who needed help, and I have room to coach a couple of local business people. Just reply to this message and we can set up a time to meet so I can learn about you and your business and see if we are a good fit!
 
Have a great week!
Carlos
PS If you or a client, coworker, family member or a friend who would benefit from our high level of attention to service and competitive rates we provided, I would sincerely appreciate your recommendations.Please text our agency at 617-409-0329 or Click here
PPS What I learned today, "What was Leonardo Da Vinci's real name" Click here to read more.