Happy February!
I thought that I would start this month's message with a positive message:
"No winter lasts forever; no spring skips its turn." 
-Hal Borland
It's been a rough winter for many of us! With all of the really cold weather, there have been many claims around frozen pipes, check out our blog below on what to do to prevent pipe freeze-ups and Ice Dams.
Check out the story behind Saint Valentines Day, Click here to read more.
February marks the beginning of Black History Month. Each year Americans set aside this month to focus their historical hindsight on the contributions that people of African descent have made to this country.  We must celebrate ourselves and do it loudly.  No matter the shape, size, hue or ability, all of our stories matter and they deserve to be told through our lens. I recently read this article on the Queens of Black History Month, that I found very interesting, Click here to read it.
Life Insurance is LOVE Insurance, which makes February and Valentines Day a perfect time to remind you of the need for Life Insurance.  The majority of Americans would have trouble paying for living expenses immediately or shortly after the primary wage earner in the house dies.  Please click here to read more on how much life insurance you should carry. Have questions? Please click here and we will contact you to review your questions and your current life insurance.
I recently had the pleasure of cooking with guest chef Adelina Armas of International Food Gourmet in Brockton. Adelina shows Sharon and me how to make chicken breasts stuffed with prosciutto, mozzarella and spinach., Click here check out the latest "Get Fresh" cooking show below.
Click here to watch the video.
There are lots of great things to do in and around the Boston area this month, please find some fun family things to do below.
Carlos
PPS, What I learned today, "Which zodiac signs are a love match " Click here 

Beer festival
February 2 – 3, 2018
Celebrate 60 brewers and 240 beers that push the boundaries of brewing at


Extreme Beer Fest

 at Seaport World Trade Center.
 
Chocolate & wine tasting
February 9 – 11, 2018


Salem's So Sweet Chocolate and Ice Festival


features wine and chocolate samples from Salem restaurants and shops at Colonial Hall.


Free jazz
February 10, 2018
Hear big bands, combos, and vocal jazz ensembles perform and compete at the


Berklee High School Jazz Festival

 at Hynes Convention Center. Free.


Science day at the museum
February 11,  2018


I Love Science

 has dozens of activities for all ages, led by Harvard scientists, graduate students, and enthusiastic explorers at Harvard Museum of Natural History, with free parking available.

Valentine's Day improv
February 14, 2018
Thorns features rants, monologues, original songs, and short films
about the comedy of love and heartbreak at ImprovBoston in Cambridge.


Run in your underwear
February 17, 2018


Cupid's Undie Run

 includes a half-naked run in the street and a party at House of Blues for charity.

Bollywood dance show
February 24, 2018 (6 p.m.)


South Asian Showdown

 [sound] is a Bollywood dance competition
with high-energy Indian music plus an optional after party at John Hancock Hall.

Game convention
February 22 – 25, 2018


Total Confusion (TotalCon)

 is billed as New England's largest tabletop gaming convention, with industry guests, championships, panels, exhibitors, and hundreds of events at the Best Western Royal Plaza in Marlborough.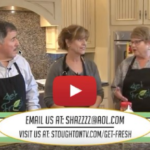 Get Fresh – Episode #24 of Stoughton's own cooking show cooking chicken breasts stuffed with prosciutto, mozzarella, and spinach with Adelina Armas from International food Gourmet in Brockton MA.

Now is the best time to work on YOUR to-do list!
Let us match you with one
of our trusted professionals!
The best customer service around!  Emailed at question late on a Monday night and got a prompt reply that evening.  No complaints here!  They have always been quick to reply and helpful.  I use them for both my auto and homeowners insurance.