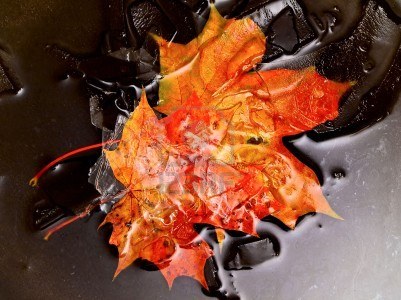 There is no doubt that the beauty of the autumnal leaves is a highlight of the season. But such splendor can mask danger. Those same beautiful leaves can be dangerous once they hit the ground! Fallen leaves can cause slippery conditions because they contain a large amount of water. Fall is also a time when we experience the first frost,which can add to the slippery surfaces. As the temperature drops, the wet leaves can freeze with a thin layer ofice creating hazardous conditions.
In addition, during the fall, the sun rises later, sets earlier, and often brings foggy days. This limited exposure to sunshine does not allow for wet/frozen leaves to dry out and once well-lit pathways and walkways are now dim. Allcan contribute to a greater potential for accidents
School is in session and children are walking out and about, your postal worker delivering your mail, and of course come Halloween "trick or treaters" will be traversing your property. These are all potential liability claims should they slip and fall on your property. It only takes one false step to become the victim of a "slip-and-fall"accident.
Avoid any chance of injury to yourself or others by clearing walkways and driveways of all fallen leaves, and ensure that they are well lit. If you currently use landscape lighting on a timer, be sure to reprogram your timers in anticipation of daylight savings time.
Protect your family and yourself against these all too often occurring accidents byreviewing your Massachusetts homeowner's insurance coverage with your agent today. Call us at 877.550.0025