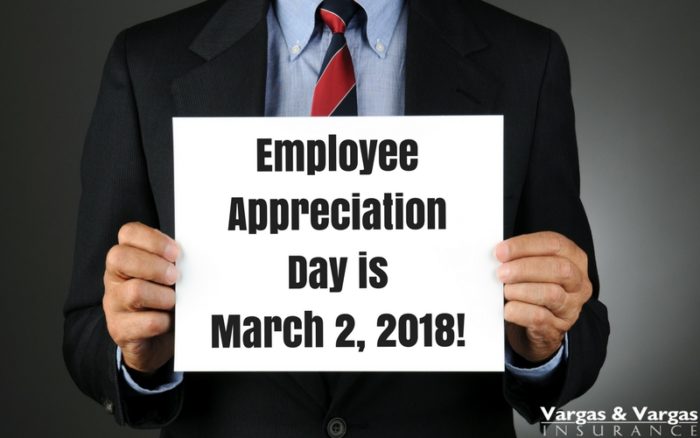 Every year on the first Friday in March, the US celebrates "Employee Appreciation Day." It is an opportunity for businesses and business owners to acknowledge the hard work of their employees throughout the year.
The Origins of Employee Appreciation Day
Employee Appreciation Day isn't a new holiday. In fact, it's been around for more than twenty years! In 1995, a man named Bob Nelson created the holiday and celebrated it at his publishing company, Workman Publishing.
Mr. Nelson was also a founding board member of Recognition Professionals International, an organization that "brings awareness, credibility and accountability to employee recognition through best practices, tools, strategies, thought leadership, education and professional certification."
Why You Should Celebrate
A business is only as good as its employees – and this goes for every type of business, from technology startups to restaurants to local stores and beyond.
It's easy for a business to be so focused on increasing their bottom line that the people aspect of the business gets lost. Remember that your employees work hard and sacrifice a lot to do a great job for you and your business. For all of the nights that they stayed late or went above and beyond the call of duty while at work, a little appreciation goes a long way.
Treat your employees well, and they are more likely to look forward to coming in to work and put in that little bit of extra effort to make you proud. It's also important to note that workplaces where employees feel appreciated have a lower turnover rate!
Ways to Show Your Appreciation
This day is all about recognition – your celebrations don't have to be lavish in order to show your employees how much they mean to you and to your business. Here are just a few ideas that you can use in your Massachusetts small business:
Food is always a good place to start when it comes to showing appreciation. Bring in treats for your employees, whether it's homemade confections, a spread from a local bakery, catered lunch (or a lunch outing), you will be hard-pressed to find someone who doesn't like free food!
A small gift is also a great way to show appreciation. Purchase something for each employee or get gift cards. You can also bring in a massage therapist and give the gift of an in-office massage.
Have you considered a company outing? Come up with a few ideas and have employees vote on the activity they want. Bowling, laser tag, karaoke, an escape room – all are great options!
A blanket 'Thank You' is nice, but you should try to go above and beyond – recognize each employee for their individual contributions to the business. Give a specific example of a time when they did great work. It's up to you whether you want this to be in a written personal note or spoken during an Appreciation meeting.
You can also tell your employees that you appreciate their efforts is by giving them some unexpected time off. Even just shortening the workday by a couple of hours will make a big impact and will be well worth the small amount of productivity lost.
Don't Stop There!
Celebrating Employee Appreciation Day in March is a great place to start in showing employees that you care and appreciate them. Just remember, though, that your employees are the backbone of your business. Is one day a year really enough to say a proper "Thank You?" Make employee appreciation a cornerstone of your business by including some of the following ideas into your routine:
Encourage a culture of appreciation. Hold a regular meeting (quarterly, monthly, or even weekly) where employees are encouraged to appreciate one another. This is a great opportunity to give out an "Employee of the ___" award.
Show that you care about your employees by celebrating the milestones in their lives. This could include birthdays, work anniversaries, weddings – the opportunities are endless!
Say "Thank You" often. There's nothing as rewarding as hearing those two simple words, so speak them frequently and honestly.
When they occur often, small acts of kindness and appreciation will make your employees feel like the valuable parts of your business that they are.
Let us help you show your employees how much you care about your business with a five-star business insurance policy. One of our Massachusetts insurance experts can review your current policy to ensure that you don't have any gaps in your coverage. We can also check to see if you could get better or less expensive coverage from another carrier. Just call 617-298-0655 for a free commercial insurance quote or review.
Remember, we are an independent insurance agency – that means we work for you, and we will ensure that your business will get the best available protection so that you can focus on helping your employees excel and increasing your bottom line.