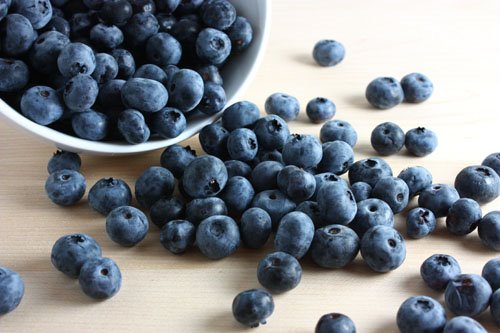 Our country's independence isn't the only thing to celebrate this month. As of 1999, July officially is National Blueberry Month, according to the Department of Agriculture. So, what makes one of the few fruits native to North America so special?
Grown in 35 states, the U.S. produces 95% of the world's blueberries. Additionally, North America sells over 200 million pounds of the fruit each year. They have been used in soups, stews and more for centuries. The Native Americans also believed blueberries could help relax women in childbirth, cure coughs and increase a person's longevity!
Blueberries' health benefits continue to be recognized today. According to The New England Journal of Medicine, eating blueberries can prevent infections. The berries are loaded with antioxidants, which can reduce the chances of getting cancer and heart disease. For a complete list of blueberries' health benefits, check out the U.S. Highbush Blueberry Council.
In addition to being very nutritious, blueberries also are delicious! To celebrate National Blueberry Month, Vargas & Vargas Insurance is hosting a blueberry muffin contest July 18. Dedicated to helping their community, all proceeds will be donated to a local Boston foundation.
For more information about the event and how Vargas & Vargas Insurance is committed to the community and keeping you safe and protected, please visit http://on.fb.me/P32bhv or call one of their friendly agents today at 877-550-0025.