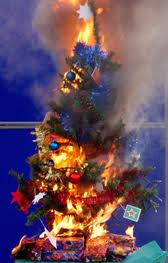 Millions of homes display Christmas trees during the holiday season. Who knew that these beautiful decorative trees could potentially destroy your home during this wonderful time of year! According to the National Fire Protection Association, between 2005-2009, fire departments responded to 240 fires that were caused by Christmas trees. There were also 13 deaths, 27 injuries and $16.7 million in property damage annually during this time frame. Please use these safety tips to make your home and family safer during the holiday season.
Choosing a tree:
Artificial tree: Choose a tree that has a label for being fire resistant.

Real tree: Make sure the tree is full with green needles. When a tree has green needles, this means the tree is healthy and has a lot of water within it. Also find a tree that does not easily loose its needles when touching it. If a tree loses its needles easily, it means the tree is not very healthy.
Placing the tree in your home:
Position the tree at least 3-4 feet away from any heating element.

Do not place the tree in front of an exit.
Adding lights to the tree:
Only use indoor lights! Do not use outdoor lights inside your home.

Do not use lighting fixtures with loose bulbs or worn wiring.

Never put candles with a burning flame on the tree.

Be sure to turn off all lighting elements on the tree when exiting your home or going to sleep.
How to dispose of a used tree:
Remove any tree from your home that is losing its needles and drying out as the tree could potentially start a fire.

Contact your areas DPW (Department of Public Works) to see if they have a program for recycling trees.
How to ensure your home and family are protected during the event of a fire?
Call Vargas&Vargas Insurance Agency 877-550-0025 and have one of our customer service representatives review your home insurance policy. At Vargas Insurance we will make sure your loved ones and prized possessions are properly covered not just during the

holiday season, but always!