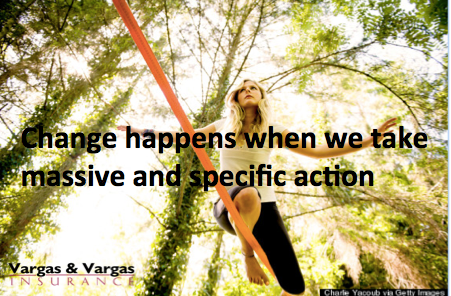 This might shock you, but complacency kills!
As you know, I like to start every week with some words of wisdom, and this weeks are:
"Change happens when we take massive and specific action. It rarely happens by easing our way into the process. Either risk it or we don't. Either go 100% or 0%. Gradual and timid change will lead to drawback to our comfort zone. It's nearly impossible to move forward without a committed and courageous leap."
-Author unknown
I told a friend the other day that I don't understand people who say they are having trouble staying motivated. I said something like "If you're passionate about what you do, you're going to be motivated. If you're not, get out of where you're at, find what you are passionate about, and get to it. Life is too short!"
Motivation is a Choice
Motivation is part of everything you work on. It's a task to check off. You have to motivate yourself because you have to stay on target. If your goal is to eat well, then there are times when you're going to want to have some pizza with friends, but it'll be your job to say, "I've got bigger plans, and this pizza is not a part of them."
I try to workout daily, usually with my wife Kathy, or with my friends Jeff, Paulo and Jason, and I try to eat healthy. But sometimes I would MUCH rather eat lobster mac and cheese and chocolate cake than another five ounces of steamed chicken breast and broccoli. But I have to remind myself that I like the place that my healthy lifestyle journey has taken me. After all, motivation is something one must consciously choose. And remember – complacency kills:
"Complacency is a sword of two edges. One edge kills hard earned successes while the other end stops future glories. Complacency is a murderer and a barrier!" — Israelmore Ayivor
How to Motivate Yourself:
Work towards those goals with a plan, not with a hope and a prayer
Have written reminders of your goal or target everywhere – make sure you see these notes throughout the day
Keep a small note (I use Evernote) with a list of reminders as to why this goal is important to you
Review your goal, your plan, and your reminders daily
If you're in jeopardy of slipping, phone a friend (or you can always call me – I would love to help you stay on target and reach your goals)
Remember that discomfort is temporary, and at times can even be a good thing
And there's the ever delightful "suck it up, buttercup" to remind yourself to stop complaining (which saps motivation like nothing else can)
It's always YOUR job to motivate yourself. Not your boss. Not your significant other. Not mom or dad. Only you own that role. It's YOUR job. It's YOUR choice. You can't pass this monkey off to anyone else.
Target – Plan – Reminders – Review – Repeat. Just like that. Got it? That's all there is to it!
Know that you are loved!
–

Carlos