When it comes time for the Thanksgiving meal, you know one thing that is going to be on the table: a turkey. The question is how you will cook the bird. While most families opt to roast their turkey for several hours in the oven, other people swear that a fried turkey is more moist and delicious in every way.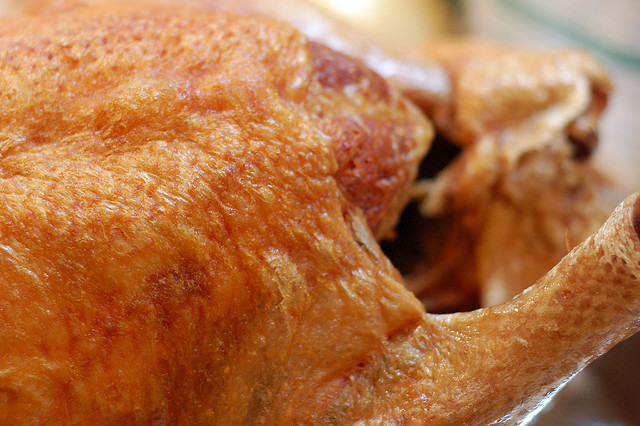 If you are thinking about making your traditional Thanksgiving turkey in a frier this year, make sure that you do so safely. Here are a few tips that will help you to have a positive Fried Turkey experience, and avoid having a pizza for your Thanksgiving dinner this year:
Only fry outdoors: It can be a pain to drag half of your Thanksgiving meal operation out into the cold, but frying outside is much safer than doing so indoors – there is much less to catch on fire if you fry in your backyard, as long as you don't do so near a treeline.

Thaw and dry your turkey: Whenever you fry anything, it should be room temperature and patted completely dry. This is no different with a turkey. If you try to fry a cold or wet turkey, your oil will bubble over and cause you lots of problems.

Plan out your oil level beforehand: Depending on its size, your turkey is going to displace a lot of oil when submerged. Instead of finding out exactly how much when your oil is hot, do a test run with your turkey and room temperature water. Mark the level of liquid you need, then only heat up that much oil at cooking time.

Watch the oil's temperature: You need to make sure that you have a thermometer in your oil so that you can be aware of its temperature. Oil can ignite if it reaches above 400 degrees, so make sure that you keep it well out of the 'danger zone.'

Stay vigilant: Turkeys typically only take a few minutes in the fryer per pound, so it's much quicker than roasting. While the turkey is in the fryer, though, it requires constant supervision.

Wear protection: The person manning the fryer needs to wear protective gear. Insulated oven mitts are a necessity, and an apron and safety goggles are highly recommended. These items will all help protect your body in case of oil splashes.

Have a fall back: Just in case something happens to ignite, you need to have a fire extinguisher nearby. You should always have one in your home's kitchen, so just take it outside with you at 'fry time.' If you don't have one, you need to go get one before Thanksgiving.
You should also know that most home insurance policies cover damage due to fire, and will also protect you against the costs associated with someone injuring themselves on your property. We hope that you have a fun and happy Thanksgiving, but you can always call Vargas and Vargas Insurance at 617-298-0655 if you have any problems, or need to file a home insurance claim.