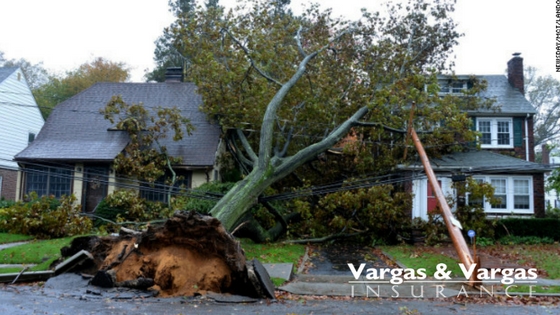 This weekend's Nor'easter, which is not a storm named by the National Weather Service, produced widespread damage including downed trees, sump pump failures, and power outages. The Vargas & Vargas Insurance team handled dozens of calls throughout the entire weekend and remains available at this time to assist you.
We understand there is great difficulty locating tree removal services and roofers to patch or tarp roof openings. We also note that finding generators and or sump pumps to remove water from basements is a challenge at this time.
Below are some tips should you have suffered any damage:
Tree damage: If there is tree damage to a building or home the first order of business is to ensure everyone's physical safety. Once that has been completed, contact a licensed tree removal company. Currently, tree removal companies are focusing on calls involving severe damage. We suggest a number of companies be contacted to secure competitive quotes and, if necessary, to get on waiting lists for assistance.
Sump pump failure: Be extremely mindful of entering a flooded basement as water that has risen to certain levels may have caused an electrical short creating a dangerous situation. Elevating personal belongings and removing the water as soon as possible is important. Pumps and generators are in high demand currently and most local hardware and big box home improvement stores are out of stock. Contacting stores within a reasonable driving distance may be good option.
Roof damage: Much like tree removal services, licensed roofers are in high demand after a storm of this size. While likely well-meaning, this will cause individuals without the necessary level of expertise to offer assistance. As we have suggested in the past, please do not let anyone on your roof that you did not contact directly, and please be sure those that do provide help are appropriately licensed and insured.While these are the most common types of losses after a storm of this nature, we recognize these are not the only issues currently being experienced. Please contact Vargas & Vargas Insurance with any questions or concerns you may have.
To report a loss, you can contact us by telephone (617-298-0655), email(customerservice@vargasinsurance.com)
or text (617-409-0329).
If you suffer an emergency that cannot wait until we are open for business, please contact our after-hours claim telephone number  617-322-5289. 
Also, you may find our blog titled, "Home insurance, should you file a claim", interesting to read, can read it by clicking here.