Happy Monday again, friends!
When was the last time you did something new or challenged yourself? That is the theme of the day, as we start with this week's motivational quote: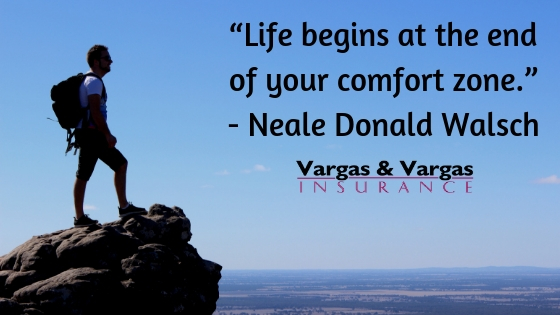 I went WAY outside my comfort zone last month – I was the keynote speaker at a mastermind group of plumbers, A/C and heating folks from around the country that met in Boston. You can watch the video here, if you like.  If you knew me 5 years ago, you would say "That's not Carlos! He does one-on-ones well, but in a group or even standing up in front of a group, no way. He will never do it."  Well, after hundreds of presentation to real estate, mortgage and closing attorneys over the past 5 or 6 years, I stood up in front of this huge group and talked about community marketing and getting freedom in business while the telephone rings with quality people who want to use their business. I also talked about how these people could spend more time doing what they want to do with the people that they love. (Do you want the same thing?)
The presentation went well (as you can see at the end of the video), and the high that I walked away with after the presentation lasted into the next day. When I walked into the house my wife Kathy asked how my presentation went, then she said "I see how you are, you must have done well!" She said the next day, "You should do more of these, you are still floating on air." For the last couple of years I have lived for presentations!
As I talked about in my message last week, like when we learn how to ride a bike, play a new video game, or try a new marketing technique, you need to do it over and over and over again to master it. The more you can do that "new thing" to make it into a habit, the more it will truly stick and become a natural part of your life. When you try something, give it (and yourself) a fair chance. For example, say you want to try taking just one small step forward toward overcoming procrastination. If that is your goal, use you new trick each day for at least a week in school or at work before you evaluate whether it will work for you.
Thinking, hoping and expecting that positive results will come quicker than may be possible can hold you back from making real progress.
The question now is: In what aspects of your life do you want to improve? Stay tuned for my email next week to read about a challenge that I have been taking on in my life.
Carlos