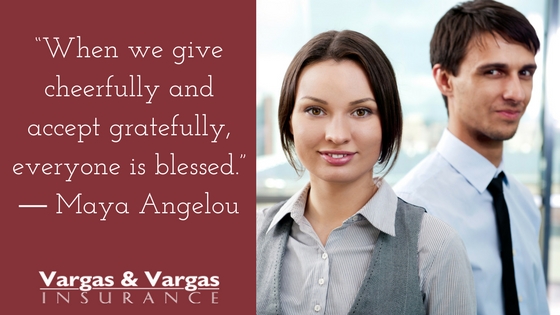 In the insurance world, there are two types of agents: captive agents and independent agents. Years ago, you could ask either type, and they would have told you that it's their way or the highway, and that the other type of agent isn't as customer friendly for various reasons.
Thankfully, here at Vargas and Vargas Insurance Agency, we know better. Having worked as both a captive and an independent agent, I can say with confidence that both have their ups and downs, but we can fulfill our ultimate goal of helping our customers by working together.
That's right – formerly sworn enemies working together. It may sound like the plot of a B-movie at first, but it's true. Like I mentioned earlier, captive and independent agents both have their strengths and weaknesses:
Captive Agents wrote the book on branding consistency. While they may not all wear 'khakis' like Jake from State Farm, they know how to unvaryingly sell a product and have an image of uniformity that independent agents could learn from.
Independent Agents, because they aren't beholden to one insurance provider, are all about flexibility. They can cover anyone in almost any situation with something from their proverbial 'bag of tricks,' something that captive agents sometimes need.
All insurance agents know one thing for certain: it's important that we continue to evangelize for ourselves as an insurance community. In today's digital age, an ever-increasing amount of people don't have a dedicated insurance agent because they're buying online. It's our job to show them the downfall of shopping online for insurance, and the benefits of having a dedicated agent to get quotes, file claims, and more.
In the end, both captive and independent insurance agents share one common goal: help their customer get the insurance policies that they need. As a captive agent, it is sometimes hard to find the perfect product for your client within the parameters of the products that you're allowed to sell.
You can show your customer that you're willing to be flexible in order to get them the insurance products that they require with a referral to an independent insurance agent just for that product. You will look like an insurance expert, and this gesture will show them that, without question, you have the client's best interest at heart. And don't worry – we won't try to steal your client. We'll just get them the one policy that they need and send them back to you happy and fully covered.
So, for example, you can send a client to our agency if they need a specialized home insurance policy, but keep their auto insurance and other policies with your company.
If you're a captive insurance agent and you want to find out more about how you can team up with Vargas and Vargas Insurance Agency for the benefit of your clients, all you have to do is reach out! Call our agency at 617-298-0655 and we can have coffee and figure out how to start a mutually beneficial relationship right away.
I will finish this blog with this quote:
"Price is what you pay value is what you get."
-Warren Buffet
C