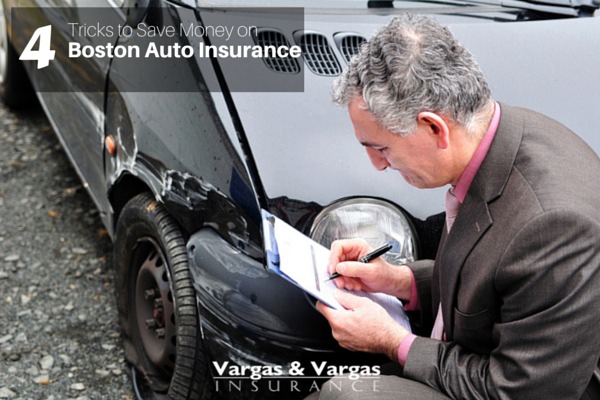 As the premier Boston insurance agency, Vargas and Vargas Insurance Agency is always looking out for you – our customers. We want to make sure that you have a great Boston auto insurance policy, and that it comes at a great price. If you're in the market to lower your car insurance premium (after all, who isn't?) then check out these four tips from the insurance experts:
1. Consider insurance costs when buying a car.
Not everyone has the luxury to do this right away, but the next time that you buy a car, consider the cost to insure it. Generally, the more safety features a car has, the less it will cost to insure. Depending on the insurance provider that you use, you could receive discounts for a number of different safety features, including (but not limited to):
Extra airbags

Anti-lock brakes

Engine cut-off systems
Encouraging you to have features that make your car less likely to be damaged or stolen is worth it to insurance providers, and discounts are how they show their appreciation for you valuing your asset. This means it may be worth considering getting some safety upgrades when you buy a new car – both for your auto insurance cost and for the health concerns of yourself and your future passengers. Nothing is too expensive when it could save the life of a loved one.
2. Maintain a good credit score.
Did you know that (according to research) drivers with a strong credit history are less likely to file claims on their Boston auto insurance policy? Knowing this association, some insurance providers will decrease your insurance premium if you have a high credit score.
How to improve your credit score could easily be its own post, but some quick tips to raising your score are: pay off debt, pay bills on time, limit the number of credit accounts that you have, and keep credit balances low.
3. Take advantage of "Low Mileage" discounts.
Do you drive less than the average driver? If so, talk to your insurance agent about your driving habits, and see if you qualify for a "low mileage" discount on your car insurance policy. Most people drive to and from work most days, in addition to running errands. If your car mostly sits in the driveway, you could qualify for a discount due to the fact that a car in a driveway is at a decreased risk for filing a claim. This discount sometimes also applies to people that carpool, so ask an insurance professional if you think that you may qualify.
4. Ask your agent about getting more discounts on your policy.
If you still think you're paying too much for your Massachusetts car insurance, we encourage you to call Vargas and Vargas Insurance Agency at 617-298-0655. Our agents would love to review your unique situation, and can determine if there are any additional discounts for which you qualify. Our agents are experts at finding the best Massachusetts car insurance, so never fear – just call Vargas and Vargas Insurance now for a free quote!