Boston Best Neighbor Contest 2011
Local Residents Honor Boston's Best Neighbor(s)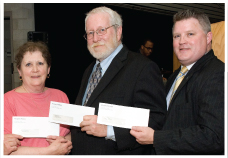 (April 29, 2011) Taste of Dorchester and Boston's Best Neighbor teamed up on April 29, 2011 at The IBEW Hall in Dorchester to honor residents Phil Carver, Patricia Westwater and Michael Skillin recipients of the 3rd Annual Boston's Best Neighbor Award.
Carlos Vargas of Vargas & Vargas Insurance Co., created the award as a way to honor individuals in the community who have demonstrated exceptional care, concern, and selflessness to make their neighborhood a safer, more pleasant, and a more friendly community for all of the residents.
Due to the increasing response in past years, this year Vargas & Vargas expanded the contest to include 2 runners-up as well as a Grand Prize winner. Mr. Vargas was quoted as saying,"It wonderful to see such positive participation to this event! Each year we have seen the nominations grow and it becomes more and more difficult to choose the winner."
This year both Patricia Westwater of Hyde Park and Michael Skillin of Dorchester were selected as the runners-up based on the nomination letters written by Barbara Baxter and David Mabel respectively. Ms. Westwater and Mr. Skillin were each awarded $250.
This year's Grand Prize winner, Phil Carver, was selected after an overwhelming number of nomination letters were received from his fellow Dorchester residents, the first of which was from his brother, Andrew Carver. Mr. Phil Carver was awarded a plaque and a $2000 check from sponsors Vargas & Vargas Insurance, Meetinghouse Bank, Cedar Grove Gardens, Law Offices of Dolan & Connly, Norfolk Hardware, Tierney Realty, Flat Black Coffee and Tax Sense. In his acceptance speech, Mr. Carver announced that he would be donating his winnings to the Neponset Valley Flag Football Organization. Mr. Andrew Carver received $500 for nominating the Grand Prize Winner as well as $500 donated to the charity of his choice. Mr. Carver chose to donate his winnings to the Neponset Veterans of Foreign Wars Post #5834.
Vargas & Vargas Insurance Agency located in Lower Mills, Stoughton and Norwood, and has been servicing the insurance needs of Massachusetts residents for over 20 years. Partners and brothers Carlos, Joseph and Mario Vargas operate a socially responsible business, giving back to the community through volunteer efforts, donations, and sponsorships.
Select BBN Submissions