2nd Annual Boston's Best Neighbor Award
Mayor Menino Joins Local Residents To Honor Boston's Best Neighbor(s)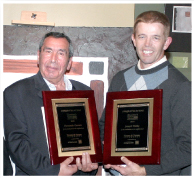 (November 10, 2010) – PRWeb – Mayor Menino was on hand on November 8, 2010 at The Townsend Inn in Hyde Park to help honor residents Joseph Welby and Fernando Correia as they received the 2nd Annual Boston's Best Neighbor Award.
Carlos Vargas of Vargas & Vargas Insurance Co., creator of the award, was quoted 'The purpose of the Best Neighbor Award is to honor community individuals who have demonstrated special care, concern, and volunteer hours to make their neighborhood a safer, more pleasant, and a more friendly community for all of the residents.' After a review of the nominations the winners were selected based on a letter by Valerie Schecter of Hyde Park. Mr. Welby and Mr. Correia were each awarded a plaque and a $1500 check from sponsors Vargas & Vargas Insurance, Meetinghouse Bank and Cedar Grove Gardens.
In Ms. Schecter's nominating letter referencing an abandoned home in her neighborhood, " Both Joe and Fernando have maintained the yard and exterior of what would be our neighborhood blight, for almost fifteen years. With no pay and no thanks from the missing owner, Joe and Fernando spend summers mowing the front and back lawn, painting the fence, cutting back the tree limbs that provide quick entrance to squirrels and raccoons, clearing the poison ivy, and removing the dried timber that could erupt in a brush fire if unattended. Fernando got "operation pride" to come and put siding and a roof on the house which only covered up a multitude of problems but at least makes it look inhabited". Ms Schecter chose to donate her $500 prize for writing the winning letter, to The Richel Nova fund, named for the Domino's Pizza delivery man who was murdered in September, 2010.
Award winner Joe Welby, a Hyde Park resident for 20 years, is a Physical Education Teacher for the Weston Public Schools and a Manager for the Wayland Swim and Tennis Club. In addition to coaching baseball for the Weston Middle School and Hyde Park Little League he is also a Eucharistic Minister at St. Anne's Church. The second 2010 award winner, Fernando Correia, has been a resident of Hyde Park since 1964. Mr. Correia was employed by the shoe company, Sportco, for 45 years and now is a Sales Representative with Atsco Footwear. He is a lifetime member of 'Two Ten', an organization within the shoe industry committed to strengthening the footwear community with financial, social and educational support and services.
Vargas & Vargas Insurance Agency located in Lower Mills, Stoughton and Norwood, has been servicing the insurance needs of Massachusetts residents for over 20 years. Partners and brothers Carlos, Joseph and Mario Vargas operate a socially responsible business, giving back to the community through volunteerism, donations and sponsorships.
 Click HERE to see the "Boston's Best Neighbor" Press Release!