Boston's Best Neighbor Contest 2009
Sponsored by Vargas & Vargas Insurance Agency Inc.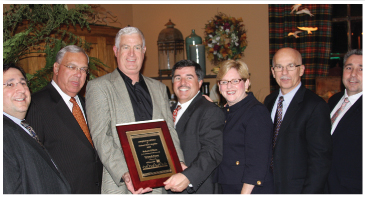 Mayor Menino Joins Local Residents In Lower Mills, Dorchester To Honor Richard O'Mara As Boston's Best Neighbor, 2009
(October 27, 2009) Mayor Menino and City Councilor, Maureen Feeney, joined local Dorchester and Milton residents on Monday, October 26, to help honor Richard O'Mara as he received the 1st Annual Boston's Best Neighbor Award.
Carlos Vargas of Vargas & Vargas Insurance Co. was quoted 'The purpose of the Good Neighbor Award is to honor a community individual who has demonstrated special care, concern, and volunteer hours to make their neighborhood a safer, more pleasant, and a more friendly community for all of the residents. This individual may have made contributions to other neighborhoods, projects, or citywide concerns.' After a review of the nominations the winner, Richard O'Mara, was selected based on a letter from Jeff Chatlos, Dorchester resident and co-owner of Flat Black Coffee Company. Mr. O'Mara was awarded a plaque and a $3000 check from Vargas & Vargas Insurance and Meetinghouse Bank.
Jeff Chatlos's nominating letter stated "Aside from giving his support to worthy local causes in the form of generous donations to hospitals, children's sports teams, local artists and cultural organizations, Richard puts his most precious personal resources, his time and enthusiasm, into all of these, and more. By his presence, frequenting local businesses as a consumer, Richard practices what he preaches. By his vocal involvement in local initiatives such as the initiative to improve and maintain Dorchester Park, his genuine involvement in the local merchants and civic associations, and his no-nonsense requests that we as his neighbors put our own skin in the game, he leads."
Mr. O'Mara opened Cedar Grove Gardens, Inc. in May of 1980 and has been the company President since 1986. His community involvements include The Lower Mills Civic Association, 1980- current, VP 2002-current; Cedar Grove Civic Association 1980-current; Founding member of Dotout, Inc. Treasurer 2005-current; Dorchester Historical Society 1985- current, Board Member 2009-2011; Neponset River Watershed Assoc. Board 2009-2011; Director and Member of the Dorchester Park Association; Member of the Milton Hospital Development Committee 2009 and a Corporator since 1990; Past President and current member of the Lower Mills Merchants Association since 1981; past VP and current member of the Dorchester Board of Trade 1981-current; Member of the PZAC in the rezoning of Dorchester, member of the Dorchester Avenue Task Force, member of the Neponset River CAC to review the future of the Lower Neponset (LMMA representative on that board).
Vargas & Vargas Insurance Agency located in Lower Mills, Stoughton and Norwood, has been servicing the insurance needs of Massachusetts residents for over 20 years. Partners and brothers Carlos, Joseph and Mario Vargas operate a socially responsible business, giving back to the community through volunteerism, donations and sponsorships.