Boston's Best Neighbor Contest 2014
Boston's Best Neighbor 2014 – Winner!
Marie Zemler Wu.
1. Marie's work with the Mather School and their success in gaining more recognition, funding and support has been incredible. She supports the school and their mission so much so that they have brought in more and high profile guests and their networks to strengthen the school and the greater school community.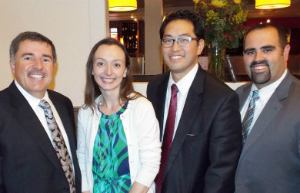 Marie is an incredible asset to Dorchester. She has made her "choice" to live in our neighborhood the greatest investment for her and us! She is charged up and always working for the improvement of what's wrong and highlighting and celebrating what's great! My children don't go to the Mather, but she has brought me into the fold and made me excited about all that happens there!
2. Marie is the driving force behind the Mather School's 375th anniversary celebration, organizing fundraising throughout the past year, making videos, contacting alumni, and generating publicity as well as planning the birthday events for the week of Oct. 19-25.
Marie has a genuine interest in people from all walks of life and a beautiful, gracious ability to draw different people together, motivating them to connect and also to volunteer their time and talents for worthy projects — or to help out a neighbor in need. Without hesitation, she offers to watch a child, to run an errand, to organize a get-together to support a mother feeling down, to assist in any way she can, yet in addition accomplishes an amazing amount wherever she has set her own sights — and she does all of it with style and professionalism and polish. I am nominating her realizing that so often the efforts of those who are not in official leadership roles or known as community activists are underappreciated, and I can see that it is hard to measure their achievements. But I hope that this year Vargas and Vargas Insurance will take a minute to acknowledge the value of an individual — in this case, Marie — in bringing together a diverse community through backyard cookouts, the give-and-take of child care, parent council meetings, and get-togethers of new-to-the-area parents to understand the BPS lottery system (that deserves an award on its own!), not to mention to acknowledge the massive amount of work of launching volunteers who are parents of young children in a predominantly lower-income and non-homogenous population to work together to enter parades and create elaborate floats, to host fundraising parties on a shoestring, to design wine labels and posters and fliers with no experience, and — most importantly this year because the Mather's anniversary is a golden opportunity — to raise tremendous amounts of money (we hope) for a Boston public school. While Marie's current focus is on the Mather, her own participation in the broader community shows clearly that she wishes the best for all of Boston's school s whether public, charter, or private/parochial, and Dorchester / Boston at large. Some individuals bring light and energy (and even happiness) to communities through their love of people and their ability to motivate, organize, and achieve, and Marie is one of them. In just a few years of living in Dorchester, Marie has made it an even more special place to live.
3. Blarney Stone Fundraiser, raised over $10,000 for Mather School
Boston Winery Fundraiser, raised over $10,000 for Mather School
Contributed to the How Can He Not Come video to invite the Obama's to the Mather School, which received extensive local and also national media coverage.
Fundraised and organized the Mather Spring Fling that served over 500 people
Made corporate and community connections to bring resources to the Mather School, including a $5000 grant from the Saffron Circle
In the words of her fellow neighbors, Marie Zemler Wu self-sacrifices all of her leisure time to help benefit her community. Marie commits to building a stronger community bit by bit by constantly seeking information and connecting people to the resources and guidance they need. She is known as the "go to" person for just about everything one could possibly need. Marie is not the kind of person who looks to get credit for the things she does. She does them because that's just how she is. She has always been known to have a very wide and eclectic group of friends and continues to build this network within her community of Dorchester and beyond. Marie helps to build a sense of inclusiveness in a neighborhood where people come from so many varying backgrounds.
Marie is an amazing communicator and facilitator. She is also highly committed to the causes she believes in. Her children are enrolled at the Mather School in Dorchester which is one of the schools in the highest state of disrepair and consistently faces budgetary challenges. She is an integral part of the Parent Council and has helped to bring support to the school by encouraging parents to send their children to the school despite the challenges it was having. By reinvesting in the school, it will help to reinvest in the neighborhood. Not all parents would take this risk, but she does and not only that, but goes a step further and serves as an ambassador to the school to build the critical mass needed to have a real impact. Marie has connected to both people within Dorchester as well as external organizations, foundations, and companies to give generously to the Mather School to help at risk children. Through her leadership, she has helped to raise over $65,000 in t he last few years for the school to go towards much needed materials, field trips, and programs. She has also helped the principal a great deal by organizing parent and teacher events to build an inspired community. She has led the organization of now 3 Spring Flings which have been open to the community and had over 500 participants each! In addition, Marie is an active volunteer at a local nursery school in the Ashmont area.
Marie is a perfect example of what a good neighbor should be. She not only helps her neighbors in smaller, "neighborly" ways such as hosting cultural events and opening her home and school to the community at large, but she also has an eye to the future of Dorchester. By encouraging people to pay attention and re-invest in our schools and our community, she is helping to sustain the neighborhood that we love. She also goes about it the way someone from Dorchester should. She does what she does because it's the right thing to do. It would be great to acknowledge someone who has done so much, but has done it under the radar and does not expect to be in the limelight for it.
4. I would actually like to discuss this woman with someone over the phone. My number is 617-519-3127. Marie is doing something in her leadership over the past year and change for the upcoming Mather 375 celebration and it would be insane if she did not get this award not just for the amount of time she is putting in but for the level of professionalism she is demonstrating and the quality of the work itself. She's coordinating an event on a level and scale that many full-time, highly-trained, experienced paid professionals could not touch … and she's drawing no salary or stipend–all while rearing her three children and offering friendship and support for various other community members and events.

Click here to learn more about our sponsors.